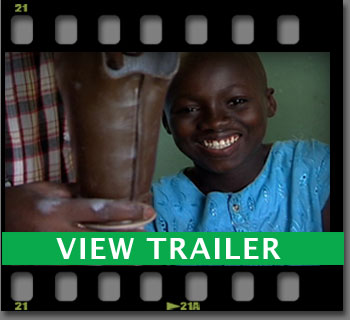 Reviews ::
"Three roars for Pride of Lions for showing the world the gritty determination and rugged resilience of Sierra Leoneans at the grassroots in their inspirational struggle to restore normal life after the inhumane atrocities and traumas of their devastating civil war by reviving health, education, and agriculture with the help of committed Americans."
- Former Ambassador to Sierra Leone and Warburg Scholar, Thomas N. Hull
"For once, we get to see African people as agents of their own destiny. Beyond being another documentary about war, Pride of Lions leaves you inspired by the possibilities for peace when a people reject violence and take up shared responsibilities to re-build their communities." See full review
- by Lydia Howell TC DAILY PLANET
Our Mission for the Film
To give the people of Sierra Leone a voice that will be heard; ignite discussion on the needs of the people and their country; inspire individuals and their communities to work together to build a sustainable future for Sierra Leone.
Overview
Sierra Leone is a small country in West Africa the size of South Carolina. It has endured an 11-year civil war ending in 2002 that devastated the country and its people.
Pride of Lions is a feature documentary film dedicated to the people of Sierra Leone. We thank the survivors of the war for their courage to tell their stories of escape, what they believe caused the war, and their hopes and dreams moving forward.
There has been political corruption in Sierra Leone in the past, but that's changing. Now, under the leadership of President Ernest Bai Koroma, the focus for most Sierra Leoneans is rebuilding their country in a sustainable way.
Witnessing the Sierra Leoneans ability to overcome inconceivable human atrocities and reclaim their legacy is inspirational, and for some of us, life-changing.
To learn more about the nonprofit featured in our film visit Global Action Foundation.